Dog Walking Auckland Wide
Pack walks at Auckland beaches, parks and on our farm in the Waitakere Ranges.
We walk dogs of all shapes and sizes and we pair them into groups based on energy levels and temperament. We're so lucky to have access to Auckland's amazing backyard, where your dog can play, run and fetch.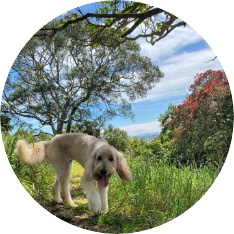 Freedom to explore in nature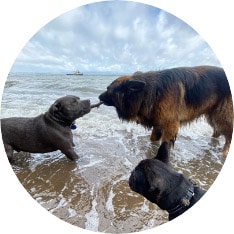 Stimulation and socialisation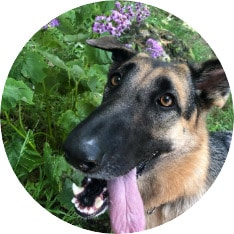 Reinforce commands and boundaries
WATCH THE FUN IN ACTION
See why our dogs have so much fun and experience what makes walks with FETCH so great!
To encourage exercise, stimulation and socialisation we like to keep the dog off-lead, but if you prefer, we can have your dog on-lead.
What is Fetch?
With our professional dog walkers covering most suburbs throughout Auckland, at Fetch we pride ourselves on providing a consistent, reliable and fun dog walking service.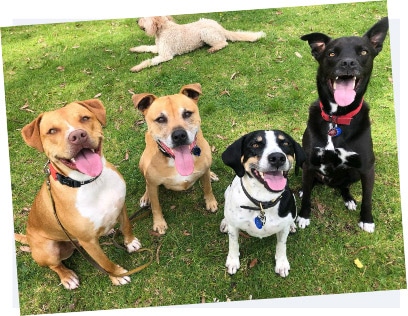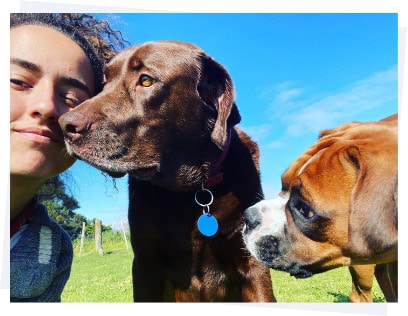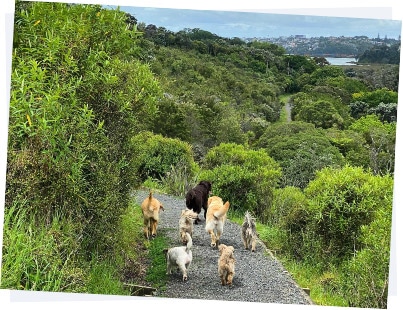 AN ONGOING SERVICE FOR BUSY PEOPLE
Our walkers provide dogs with much needed exercise, fun and companionship during the day while their owners work. This provides our human clients with peace of mind and a well behaved dog to come home to at the end of the day, one that's ready to curl up on the couch with them instead of demanding a neighbourhood marathon!
A SAFE & FUN ENVIRONMENT
We're committed to providing safe and controlled walking groups. We limit the numbers in our packs, limit travel time and provide comfortable air conditioned vans to transport your dogs to various parks, beaches and bush walks around Auckland. We choose areas with your dog's safety in mind, opting for clean, shaded destinations, away from street traffic and other hazards.
PERSONALISED & CONVENIENT SERVICE
Since 2005 we have earned a reputation for providing great customer service. We take the time to get to know your dog, providing a free consultation at the start with a detailed profiling of your dog in order to provide the best walking based on their size, age and temperament. We also know convenience is paramount for our clients, so we pick up and drop off your dog at no additional cost.
KNOWLEDGEABLE & EXPERIENCED WALKERS
Our senior walkers have at least 10 years experience with dogs. Our business has been providing dog care for over twelve years so you can be assured in our knowledge, experience and love for dogs.
All our vans are fully equipped with air conditioning, ventilation and we run the newest and safest vans in New Zealand.
MEET ANDY

- FOUNDER OF FETCH DOG WALKING
If you'd like your dog to become part of our FETCH family, or you have any questions about our services, please get in touch.
FREE UP TIME IN YOUR BUSY AUCKLAND LIFE
1
Fetch Dog Walking will help to free up some of your time, so you can focus on your own work and play. Life in New Zealand's largest city can get pretty hectic and having a work life balance that works for us means we can't be there for our dogs 24/7. We can help to create a chilled, stress free environment to come home to. No more marathon walks on arrival home after a hard days work and knowing that you can devote more time to those other parts of your life that often need more attention.
We have found that many behavioural issues in dogs can often be easily solved through regular Fetch walking. We believe in positive reinforcement of good behaviour and making sure dogs don't get rewarded for unwanted behaviour, therefore control over a pack is paramount.
Your dog will need to channel his/her energy somewhere. If he has too much extra energy, that might show up as hyperactivity, night time activity (when you're trying to sleep), bad behavior (like jumping and barking excessively), or even being destructive to items in your home. Regular Fetch walks can help your dog use up that energy in healthy ways.
TRAINING AND SOCIALISATION TIME
4
What better way to work on your dog's training than while on a walk with Fetch? We can use this time to practice commands like come, sit and stay. Fetch walking helps to build confidence and socialisation skills with dogs and humans.
INCREASE TRUST IN HUMANS AND THE WIDER WORLD
5
Meeting new Fetch walkers and continually being exposed to new environments goes a long way to building a stronger sense of self within your dog.
PHYSICAL AND MENTAL STIMULATION
6
Dogs get bored, especially if they are left alone for most of the day. There are some things you can do to help keep your dog entertained and stimulated while you are not there however going for a regular Fetch walk will do wonders to keep them happy and also leads to greater mental health.
NATURAL ROAMING AND EXPLORING INSTINCTS
7
All dogs want to check out their surroundings. Once they know their immediate area well, they are likely to want to expand their territory. Taking your dog for regular Fetch walks can help to satisfy this instinct.
GASTROINTESTINAL HEALTH
8
Regular Fetch walks can have some benefits to your dog's gastrointestinal health. Fetch walks can help to keep things moving and may help to relieve constipation.
WEIGHT MANAGEMENT AND A GOOD HEART
9
Many dogs are unhealthy, and the main cause is not enough regular exercise. As dogs get older, their metabolism tends to slow down, and it is easier for them to gain weight. Starting a regular Fetch walking routine can help your dog reach and maintain ideal body weight and condition.
MANAGING ARTHRITIS AND GENERAL JOINT PAIN
10
It doesn't seem to make sense, but regular Fetch walks can actually help manage arthritis pain. If you or someone close to you have arthritis, you'll know that it hurts the worst first thing in the morning, but tends to get better though the day. That's because motion and use of the joints helps with the pain. Sometimes medications are also necessary but regular Fetch walks will definitely help keep those joints limber.
DOG NEED A WALK?
MAKE AN ENQUIRY TODAY
Please fill in our enquiry form or give us a call on 021 335 446. We'd be happy to talk you through the options we have available or you can check out our basic pricing info here.