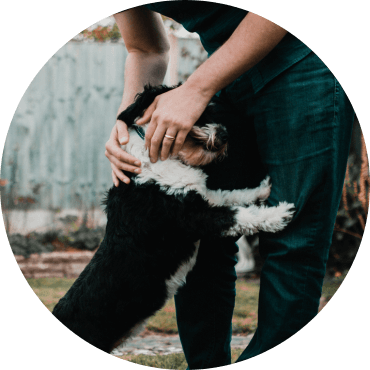 AN ONGOING SERVICE FOR BUSY PEOPLE
Our walkers provide dogs with much needed exercise, fun and companionship during the day while their owners work. This provides our human clients with peace of mind and a well behaved dog to come home to at the end of the day, one that's ready to curl up on the couch with them instead of demanding a neighbourhood marathon!
A SAFE & FUN ENVIRONMENT
We're committed to providing safe and controlled walking groups. We limit the numbers in our packs, limit travel time and provide comfortable air conditioned vans to transport your dogs to various parks, beaches and bush walks around Auckland. We choose areas with your dog's safety in mind, opting for clean, shaded destinations, away from street traffic and other hazards.
KNOWLEDGEABLE & EXPERIENCED WALKERS
Our senior walkers have at least 10 years experience with dogs. Our business has been providing dog care for over twelve years so you can be assured in our knowledge, experience and love for dogs.
PERSONALISED & CONVENIENT SERVICE
Since 2005 we have earned a reputation for providing great customer service. We take the time to get to know your dog, providing a free consultation at the start with a detailed profiling of your dog in order to provide the best walking based on their size, age and temperament. We also know convenience is paramount for our clients, so we pick up and drop off your dog at no additional cost.